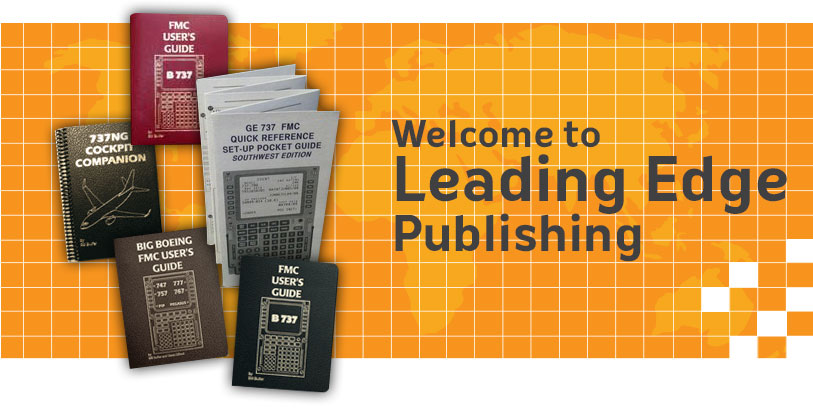 Please no orders from California. I no longer pay CA sales tax.
California residents can call Marv Golden Pilot Supplies or the Stop-Over-Store.
News: I visited a new NG sim operation in Atwater. The sim is up and running but they still have to build the briefing rooms and classrooms. It looks great.They plan several sims.
Ref: Sierra Acadamy. I'll post a contact soon.
I am sorry my web site is so hard to navigate.
If you have trouble just call me at 209 233 1440 (mobile). California time.
UTC -

7
I am looking for someone to take over publishing the Big Boeing FMC Guide.
If you are an active "Honeywell" (Big Boeing) pilot and want to get into writing, give it some thought.

I have discontinued the AA Cockpit Companion.

COCKPIT COMPANION FOR IPAD:
I am pleased to announce I have teamed up with Robert Dorsett to produce several iPad apps to include the 737 Cockpit Companion (CCIPAD).
Note: CCIPAD requires iPad version 2 or later.
Using your iPad, do a search on the App store for B737. The Cockpit Companion with 2 orange C's will display.
Touch the cockpit display to get to the Reviews tab.
For a better description please visit Robert's web site at:
www.airlinerapps.com
My E-mail: billbulfer@comcast.net
Mail: Leading Edge Publishing, PO Box 2868, Merced, CA 95344-0868 USA
Mobile: 209 233 1440
IMPORTANT ORDER NOTES:
If ordering more than 2 books, please choose the PO method.
I will follow-up with email to discuss payment and shipping options.
Unlike my old store front, credit cards are now charged immediately; if you have any questions, choose pay by Purchase Order and then contact me via e-mail or mobile.

SHIPPING NOTES:
If you need a book(s) shipped immediately, follow up your order with an e-mail.
I normally do Not ship every day. This is a one-person ops.
DOMESTIC shipping:
Single book - US Post Office, Priority Mail Flat Rate Envelope approx. $7.00.
Multiple books (up to approx. 8 books) - US Post Office, Priority Mail Flat Rate Box = approximately $13
INTERNATIONAL shipping: (outside US)
Priority Mail $24 for single book. $19 Canada.
$40 - 60 for a Priority Mail Flat Rate Box. Approx. 8 books.
I will ship FedEx International if the price is reasonable. It's faster and allows tracking.
There is no tracking with the US Priority Mail for international orders.