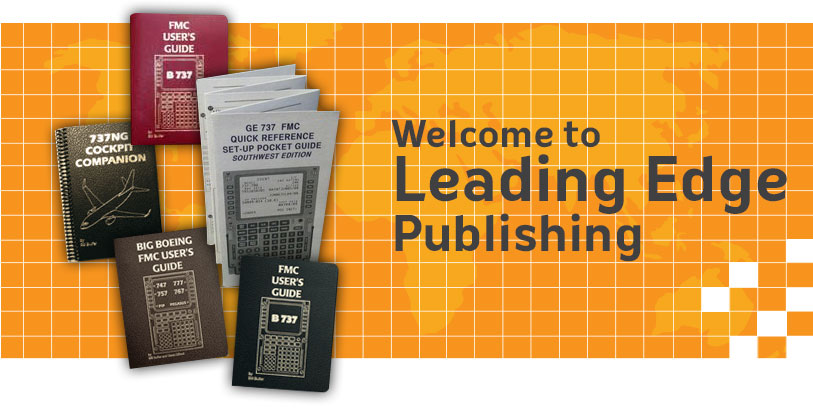 Please no orders from California. I no longer pay CA sales tax.
News: I recommend the Boeing 737 Interactive System app by Eric Cannon.
It is actually 4 interactive systems in one: hydraulics, electrics, fuel, and bleed air.
All use the typical factory layouts, however I have been working with Eric on making my hydraulic diagram interactive. He has the first version released and ready for your critique. Abnormals will follow in a few weeks. But this first version is very good. And you can create some abnormals by
switch

movement.
I hope to work with Eric in making my electrical diagram interactive.

The app is $25.00 Search for "B737 Interactive".
I am looking for someone to take over publishing the Big Boeing FMC Guide.
If you are an active "Honeywell" (Big Boeing) pilot and want to get into writing, give it some thought.

COCKPIT COMPANION FOR IPAD:
I am pleased to announce I have teamed up with Robert Dorsett to produce the Cockpit Companion iPad app (CCIPAD). It includes several different models and airline configurations.

Note: CCIPAD requires iPad version 2 or later.
Using your iPad, do a search on the App store for B737. The Cockpit Companion CC's will display.
Touch the cockpit display to get to the Reviews tab.
For a better description please visit Robert's web site at:
www.airlinerapps.com
My E-mail: billbulfer@comcast.net
Mail: Leading Edge Publishing, PO Box 2868, Merced, CA 95344-0868 USA
Mobile: 209 233 1440
IMPORTANT ORDER NOTES:
If ordering more than 2 books, please choose the PO method.
I will follow-up with email or phone call to discuss payment and shipping options.
Unlike my old store front, credit cards are now charged immediately; if you have any questions, choose pay by Purchase Order and then contact me via e-mail or mobile.

SHIPPING NOTES:
If you need a book(s) shipped immediately, follow up your order with an e-mail.
I normally do Not ship every day. This is a one-person ops.
DOMESTIC shipping:
I use both USPS Priority Mail and FedEx Ground $7.00.
INTERNATIONAL shipping: (outside US)
I normally use FedEx for all international shipments.

It's faster and allows tracking.
There is no tracking with the US Priority Mail for international orders.